Sanibel Island Boating & Boat Rentals

The experience of boating at Sanibel Island gives your vacation an entirely different dimension. The waters around Sanibel Island are beautiful and renting a boat to explore those waters will give you a totally different perspective on the island. We have rented boats many times and have always had an adventure.

We rented a 20' Regal Deck Boat from the Sanibel Marina our first time out. We took the boat out for a half day which cost around $150.00 (price subject to change) plus oil and refilling the gas tank upon your return (about $50). The boat was large and spacious. They offer other styles of boats to suit all needs. Ours was for an excursion, not fishing.
We were checked out by the Sanibel Marina man we made arrangements with to make sure we were comfortable with our boat and then we were off. You are provided a map and an emergency cell phone. My husband and I are familiar with boats, so for us it was not an intimidating experience. But for people who have never used a boat the maneuvering in and out of the dock area can be scary. I would recommend if you have never boated before to read up on the basic "rules of the road" before you attempt a rental. Remember if you damage this boat you will be liable! But don't let this stop you from renting a boat on Sanibel. Just go slow, take your time and you'll do fine!
I would also recommend calling ahead and reserving a time and day for your boat trip. I recommend a morning trip since the possibility of a thunderstorm is more prevalent in the late afternoon hours (especially during the summer months).

Since you will be gone for at least four hours I would bring the following items with you:

cooler
ice
drinks
water
snacks
sunscreen
hat/visor
sunglasses
beach bag (things will fly out if not contained)
cover-up or t-shirt
camera
beach towels


I recommend leaving your purse or wallet locked in the trunk of your car. Your car keys should be secured in a zipped pocket and/or secured with a safety pin to assure they cannot fall out during your boat trip.

You will not be allowed to take the boat into the ocean. You must remain on the bay side for your boat outing.

The trip will be very exciting. You will see other large boats and yachts (you will feel very small at times!), dolphins, birds and the islands of Sanibel and Captiva from a totally different view.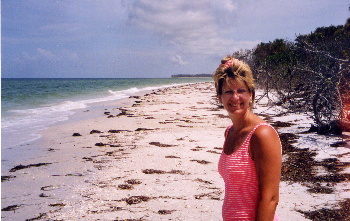 We boated to the State Park of Caya Costa. This is one of the best shelling islands in the area. Plus, it is absolutely beautiful. You cannot beach the boat on the ocean side, so you must anchor your boat on the bay side.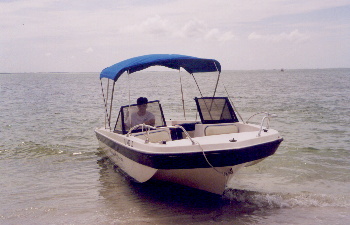 Warning: Be watchful of the tide when anchoring your boat, if you do not put the boat out far enough you will ground the boat. Take it from us, this is not a fun thing to have happen. We went onto the island for an hour or so and when we came back the tide had gone out and we beached the boat. Luckily, another boat was close by and a very nice couple helped us push the boat back into the water. We have not made that mistake again!

Boats to rent include 20ft Regal deck boats, 21ft center console power boats and 20ft catamarans. They also have a Sunset Cruise for $15.00 per person for a one hour cruise, if you aren't inclined to captain your own ship.

To contact the Sanibel Marina call 239-472-2531. Sanibel Marina is located at 634 North Yachtsman Drive (1/2 miles east of the causeway off Periwinkle Drive).



Another great experience we had was renting a boat from Jensen's Marina on Captiva Island. This is a large marina tucked away on Captiva Road. We found the service to be exceptional and the boat was very nice. What I loved the best was when we were in the office to pay, I saw the largest cat I've ever seen in my life, she was just plain fat!! Look for her if you visit Jensen's Marina.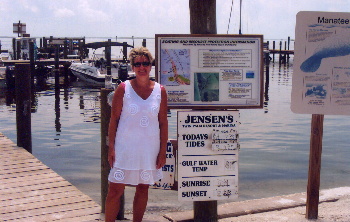 By leaving from Captiva you can reach Caya Costa much faster, giving you a lot more free time to shell or boat. Again, we boated to Caya Costa to shell. We anchored the boat and proceeded on shore. We looked for the path that takes you to the ocean side of the island but it was blocked by debris from Hurricane Charley. So we opted for another route but were stopped my a mama boar protecting her three babies. She was most persistent and would not allow us to pass! So much for shelling on that trip. But we shall return!
Instead, we boated to the island called Cabbage Key. This is the island that has the famous bar and eatery that inspired Jimmy Buffet to write "Cheeseburger in Paradise". There are one dollar bills stuck over every wall and even the ceiling throughout the bar area. Very cool to see. There is also a picture of Jimmy Buffet behind the bar.

A word of warning: make sure when you go to dock your boat not to "park" the boat at the dock unless you need fuel. That is apparently a no-no here. Dock your boat right on shore at the pilings in front of the restaurant and tie your boat up there.

There is a gift shop in the marina building where you will be most welcome.

We had a great experience renting from Jensen's Marina and will rent again from them on our next trip.

Rentals are available for a full or half day. You can rent pontoon boats, 18ft center console motor boats and 14ft skiffs. They also have bait and tackle available for fisherman. The cost was $193.00, plus fuel. We saved on fuel versus our rental from Sanibel Marina because we did not have to boat as far to reach places we wanted to visit.

To contact Jensen's Marina call 239-472-5800. Located at 15197 Captiva Road. It will be on your right as you drive into the Captiva Village Center area.

Sanibel Island Activities