The Lighthouse Cafe Restaurant Review
This small, you-might-miss-it restaurant is the BEST place to eat on the island. They specialize in "The World's Best Breakfast" but also serve lunch. The theme of the restaurant is nautical with hundreds of pictures of lighthouses from all over the world (many pictures sent by customers).
The service is fast and the food is awesome. I highly recommend the French toast, the best I've ever had. During the summer you can usually be seated right away but during season be prepared to wait. But the wait is worth it! The drinks are large and your drink is always kept full!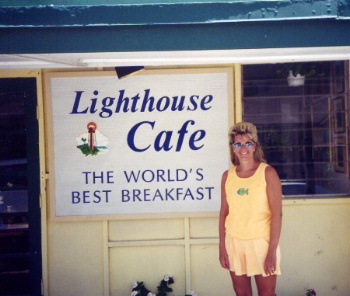 What is extra unique about this place is that the SeaHorse Shopping Plaza has many shops you can stroll thru while waiting for a table. There is an intercom system in all the shops so you can hear your name called when your table is ready.
You may even be lucky enough to see a celebrity while eating. Last summer we saw Wilfred Brimley (TV show "Our House", Movie "Cocoon" and the Quaker Oat TV commercials). He was only about 10 feet from us eating breakfast. I even got a picture, we were trying to appear nonchalant and make it appear that we were not taking his picture, so the photo is a little funny looking. So look above Susan's head and you will see Wilfred Brimley sitting in a booth eating his breakfast. I think we saw that he got orange juice and pancakes for breakfast!


A few years ago we just missed Brian Dennehy (actor) and late last year Art Garfunkel was on Sanibel Island. He would send his man-servant to bring him an omelet every morning. The owner of the Lighthouse Cafe, Mike, asked him to tell Art to come in for breakfast himself one morning. Well Art did but Mike did not realize who he was and spent about 10 minutes talking with Art and then Art left!! After he left people told Mike whom he had been speaking with and Mike said the joke was on him!

Entree Recommendation:

French Toast- the best I've ever had!

Entree Recommendation:
Granola Pancakes- Fred's Favorite


The Lighthouse Cafe is not a fancy restaurant, nor is it on the cutting edge of haute cuisine. But it is a restaurant that consistently delivers excellent food, large portions and dependable, friendly service. And all at a price that leaves money in your pocket to have dinner at one of the other over-priced restaurants on the island.

Prices range from $4.95 to $11.95. Hours are 7:00 a.m. to 3:00 p.m. They are located at 362 Periwinkle Way in the Seahorse Shopping Plaza. Phone: 239-472-0303.

SUSAN RATING: *****

Rating System


***** Five stars outstanding
**** Four stars great
*** Three stars good
** Two stars ok
* One star Don't Do It!

Sanibel Island Restaurant Reviews

Book your trip to Sanibel here, get rates, airfare, rental car and more to visit Sanibel Island, just click below...

Book and save while planning your trip to Sanibel Island

You'll get highly competitive rates and great service.