Lazy Flamingo Restaurant Review
This eatery is smaller than most but boasts large portions. I recommend the Caesar salad which was huge and quite delicious. They are known for their awesome Caesar salad which you can get full size or as a half portion. The half portion is huge. It comes with garlic bread which is very good. The bread makes you feel like this is a completely satisfying meal. The fried shrimp basket is also very good. The shrimp is lightly breaded. The menu is limited but for good reason: faster, quicker service. Plus the food quality is high.
Fred has gotten a hamburger the last two times we ate there and he really enjoyed his meal. The french fries are quite good. Large drinks with good service on the refills. They have paper towels on the table to use as napkins.
A large bar is the center piece of the restaurant. They have just added outdoor seating which is very nice. We sat outside on our January trip and it was so relaxing. I'm not sure if in June it will be as pleasant! But I'm willing to give it a try as outdoor seating on Sanibel is very limited!

Good place for a quick meal. Very casual, relaxed atmosphere. Great place for bikers to stop for a meal. We have always had very good and friendly service, which always makes your dining experience better.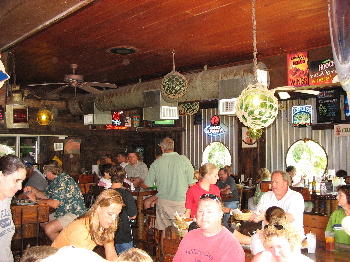 Easy to locate, just turn right off the causeway at Periwinkle Way and drive about 100 yards and the restaurant is on your right. Look for the bright pink sign. Large parking lot.

Located at 1036 Periwinkle Way. Phone: 239-472-6939.

SUSAN RATING: ****

Rating System


***** Five stars outstanding
**** Four stars great
*** Three stars good
** Two stars ok
* One star Donít Do It!

Sanibel Island Restaurant Reviews