The Jacaranda Restaurant Review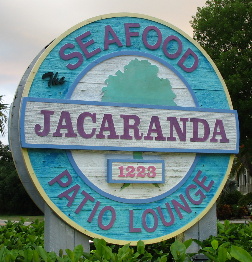 One of our favorite restaurants, we always come here our first night on the island. It's a tradition. The menu boasts fresh seafood but also includes steaks, pasta and seafood specialties. Their signature dish is the Baked Crab Stuffed Grouper with Lobster Sauce. The bread is served hot with an olive oil and parmesan cheese dipping sauce, it is very good!
The design of the restaurant displays local artwork on the walls (which you can purchase!) and tropical fish in large tanks. The restaurant has two different sections, a more intimate area and a larger dining room that has the fish tanks in it. Service is always good as is the food. The only negative is the drink refills are very slow.

Prices range from $14.95 to $21.95 for entrees. Early bird specials are available between 5:00 to 6:00 p.m.




One of Fred's favorite dishes is the babyback ribs. It's messy but always a good choice for dinner.




Entree Recommendations:
Baked Crab Stuffed Grouper
Babyback Ribs
Broiled Sea Scallops


The building is easy to spot as it is painted purple. The parking lot is gravel but has plenty of parking spaces available.

There is a Happy Hour daily between 4:00 to 7:00 p.m. with 2 for 1 Drinks in the lounge area only. Live Entertainment and Dancing nightly in the bar/lounge area (which is separate from the dinning area). They have appetizer specials between 4:00 and 7:00 p.m.

Reservations recommended during season. Located at 1223 Periwinkle Way. Phone 239-472-1771.

SUSAN RATING ****

Rating System


***** Five stars outstanding
**** Four stars great
*** Three stars good
** Two stars ok
* One star Donít Do It!


Sanibel Island Restaurant Reviews