Blue Giraffe Restaurant Review
The Blue Giraffe is a small restaurant located in the Periwinkle Shopping Center. The decor of the Blue Giraffe is very colorful and bright with two different eating areas. There is also an outdoor area with table to eat your meal. A great place to escape after a long day of shopping or to avoid the occasional rain shower.

The menu is very large, consisting of breakfast, brunch, appetizers, chowders, soups, deli sandwiches, wraps, burritos, salads, chicken, seafood, pasta and beef and burgers. Wow! They also have a bar where you can purchase wine, beer and mixed drinks. They have daily specials and a Kid's menu.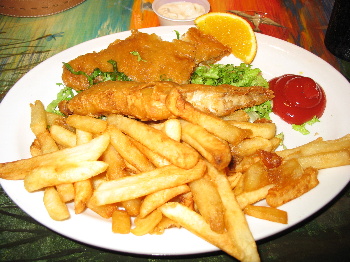 I had the chicken quesadilla for lunch. It was good not great. Fred had the fish and chips and enjoyed them very much. Service was fine.

Serving breakfast, lunch and dinner seven days a week. They are open from 9 a.m. to 9 p.m. Hours could vary depending on season. Dinner reservations are accepted. The Blue Giraffe is located in the Periwinkle Shopping Center near the back of the complex at 2075 Periwinkle Way. Phone: 239-472-2525.

SUSAN RATING: ***

Rating System


***** Five stars outstanding
**** Four stars great
*** Three stars good
** Two stars ok
* One star Donít Do It!


To plan your trip to Sanibel Island, including accommodations, airfare, rental car and more, just click below...

Plan your trip to Sanibel Island

You'll get highly competitive rates and great service.

Sanibel Island Restaurant Reviews